Threat Analysis & Intel Plataform
CRIPRO is an essential intelligence resource that allows to significantly improve the production of criminal intelligence by profiling different actors, discriminated by categories and with very easy access, which are generated from specific indicators, patterns and dynamic correlation of raw data.
CRIPRO allows you to dynamically filter, navigate and consult the profiles of interest that are necessary and subsequently generate specific reports of the profiles under investigation in an automated way. In addition, our integration technology allows not only to associate between raw patterns within the same module but also to triangulate data and patterns from other modules of the Intelligence and Analysis Platform.
The module itself and the generation of reports can be configured in such a way that each client can add their own corporate logo and thus further optimize the investigation time by generating a report with their own commercial brand that they can present to their clients by helping to solidify your reputation. At present, CRIPRO is used to store profiles of 11 categories associated with the criminal field, among which the profiles related to terrorist organizations from all over the world, including rebel groups; actors (people) who are directly related to terrorist organizations; communication institutions that disseminate terrorist actions as propaganda; criminal organizations such as financing of terrorist activities; groups associated with the development of malicious code from around the world; hacktivist groups that commit computer attacks for political, religious, warlike reasons, etc .; Cybercriminals (people) around the world directly associated with criminal activities using the Internet as an attack infrastructure, among many other categories.

Malware Data Extractor & Intel
Automated static analysis of files to generate preliminary cybercriminal intelligence. Public and private version
Network Intelligence & Data Extractor
Intelligence over domains, IP (v4 / 6), etc., through Static and automated analysis, "On-Demand", of PCAP files
Cybercriminal Profiling for Intel
Cybercriminal intelligence based on the profiling of different types of actors and global terrorism.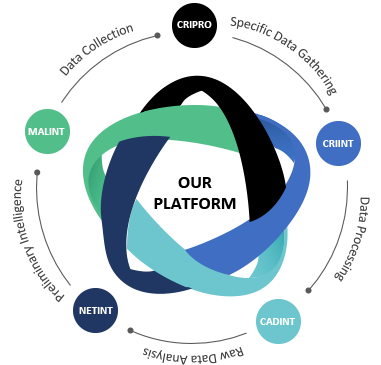 Crimeware Intelligence & Data Extractor
Intelligence of criminal packages such as ExploitPack, MalwareKit, DDoS Framework, RATs, PhishingPacks, etc. Public and private version
Cracked Accounts Data for Intel
Monitoring and early warning of violated accounts of banking entities and streaming.

CRIPRO represents an extraordinary empirical resource that allows evaluating threats, risks and monitoring cybercriminal activities, and other global threats such as terrorism, including its propaganda media, funding and members. It is fed through previously checked and verified open sources, data analysis through experts and daily, weekly or monthly notifications regarding new profiles added and / or updated.
CRIPRO provides information of critical interest in a timely manner to help detect, investigate, prevent, predict and monitor potential threats during the process of their planning and / or execution, enhance the production of cybercriminal intelligence and document the results for possible future litigation.
CRIPRO is designed to be used by government agencies, military environments, law enforcement agencies, universities, NGOs, financial entities, security professionals and business risk management, journalists, among others.
The information currently being channeled into CRIPRO -CyberCriminal Profiling for Intel- focuses on the collection of raw data stored in 12 (twelve) categories that contain "profiles" of actors. At the same time, we can separate the categories into two very specific groups. On the one hand, categories that group data around activities related to Cybercrime and, on the other, data closely related to terrorist organizations.